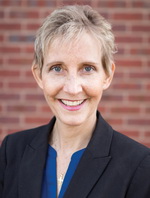 About Carolyn Thompson
"Nothing gives me greater satisfaction than meeting with a family, hearing their life story, listening to their future goals and current fears, and designing a plan that incorporates all of those elements to protect that family's legacy in a meaningful and effective way. I am passionate about educating people on how estate planning issues can have a substantial impact on their lives and the lives of their loved ones. That impact is not simply financial; the designs and implementation can strengthen a family unit and pass on the legacy, values, and stewardship of our clients. Our goal is to have a positive impact for generations to come."
"While I'm away from the office, I enjoy spending time with my three children, riding bike, traveling, and being outdoors. When I reflect on what truly gives me the greatest joy, it's so simple: I love people, the sun, the trees, the stars: all God's creation. There is no doubt in my mind that my life has been truly enriched and forever impacted by the clients and people I have met. I still sit in awe and thankfulness for God's provision and guidance in my life. I know that it is by God's grace that He has imparted in me energy and passion to help bring clarity to people as they define their legacy and face current life issues."
Carolyn A. Thompson, a South Dakota native, received a double major in Management and Accounting from Northern State University in Aberdeen, SD, and became a Certified Public Accountant in 1992. She earned her law degree from the University of South Dakota, where she received and maintained a full-tuition scholarship. Carolyn is a member of the American Academy of Estate Planning Attorneys, a national organization dedicated to serving the needs of estate planning attorneys and helping them deliver the highest possible service to their clients.

BACK TO ATTORNEY AND STAFF INDEX